Wolf
Creek
Environmental
Center/Alderfer-Oenslager
Wildlife
Sanctuary
6100 Ridge Road
Sharon Center, OH (use Wadsworth on GPS units)
Just north of Sharon Center on State Route 94

GPS Coordinates for Wolf Creek Main Entrance
North: N 41 06' 31.872
West: W 081 44' 08.172
| | |
| --- | --- |
| TRAILS | |
| Download Trail Map | |
| Pine Forest Loop (.67 mile – natural) | |
| Hardwood Forest Loop (.5 mile – natural) | |
| Wetland Loop (.25 mile – paved from the back of Wolf Creek to the boardwalk) | |
| Inner Field Loop (1 mile – natural) | |
| Outer Field Loop Trail (1.5 miles – natural) | |
PARK ACREAGE
248.10 acres
BODIES OF WATER
.5-acre ponds (2)
3.5-acre pond
Alderfer-Oenslager Wildlife Sanctuary Hours:

Tuesday through Saturday

9 a.m. to 5 p.m.

(closed Sunday and Monday)

Wolf Creek Environmental Center remains closed until further notice. A portable restroom will be available in the parking lot.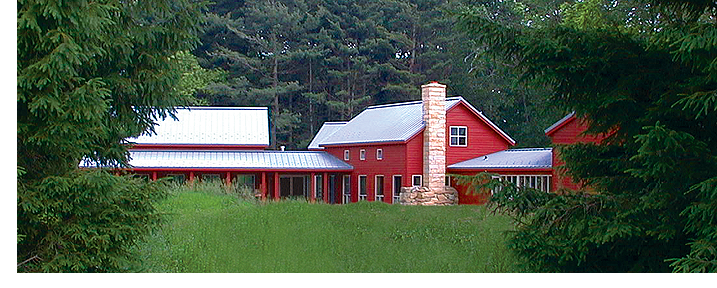 Alderfer-Oenslager Wildlife Sanctuary is the home of the park district's environmental education center. The area is named after Ruth Alderfer-Oenslager, who donated the original 103 acres of this site in 1975. The donation was made with the stipulation that the land be used for environmental education with an emphasis on programming for children. The park district acquired an additional 145 acres in 1999 to expand the area to 248 acres.
A building housing classrooms, offices, and restrooms opened to the public in October of 2000. This facility provides space for park district nature programs that are conducted for school groups and the general public. A wide variety of habitats from mature forests to wetlands, meadows, and prairies offers students opportunities for nature study. The nature programs offer hands-on experiences in the study of the environment.
The Wolf Creek Educational Wetlands, a project that recreated over four acres of this park's marsh ecosystem, has a boardwalk permitting visitors to travel "into" the wetland for study and wildlife viewing. A deep-water pond provides opportunities for pond study. An accessible path makes the building, wetlands, deep-water pond, and prairie areas available for people of all abilities.
Since Wolf Creek is a wildlife sanctuary, the park district seeks to minimize disturbance to the natural communities. For that reason, pets, fishing, biking, and picnicking are not permitted.
Wolf Creek Environmental Center and Alderfer-Oenslager Wildlife Sanctuary Activities/Amenities